Anger with preventing the wife from attending her mother-in-law's wedding and causing a 'scene'
A woman who was banned from her mother-in-law's wedding has come under fire for attending a scene, after her husband attended without her.
The 26-year-old took to Reddit's Am I The A** hole forum, to ask if she was wrong after blasting off at nuptials, calling her husband a "liar and manipulative."
Posted by username u/Grace-Full4235, she explained that she and her mother-in-law "do not get along at all".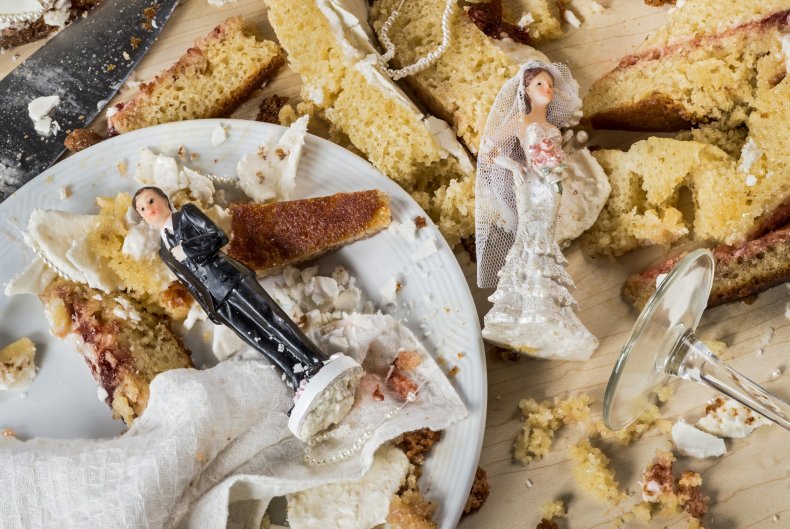 "Our last disagreement was over her wanting to sell the family home and give her eldest son more money than my husband. MIL asked me to stay away and my husband said it was OK.
She explained, "She ended up putting some distance between us and stopping inviting me to events. Fine, but I did tell my husband I expected him to stay home with me when I wasn't invited."
Tension between wives and their mothers is nothing new, as The Mother-in-Law Project delves into the relationship.
They said, "Although this relationship gets a bad reputation, the MIL/DIL connection in general may not be as horrific as society would like us to.
Although they admit the relationship can be categorized as "complicated". Some can be "full of mutual love and respect", others "tense, tense, or really bad."
A survey of 807 women from 49 states found that only 5 percent of mothers-in-law said they were "dissatisfied or very dissatisfied" with the relationship with their daughter-in-law.
In contrast, 20 percent of wives said they were "dissatisfied or very dissatisfied" with the relationship with their mother-in-law.
Grace-Full4235's experience likely falls into this latter category, as she said in the post that her mother-in-law recently married and was not invited to the ceremony. Based on her demands, she expected that her husband would not attend without her.
"I asked my husband to promise to stay home with me and not go. He got defensive and said this was his mother's wedding and there was no reason why he couldn't come," she said.
Amid the pressure, her husband claimed he wouldn't go, but he told her he had been hanging out with his friends that day, which aroused her suspicion.
After checking in with his friends, I headed to the wedding venue amid fears that he was going to the party.
"I felt betrayed and wanted to catch him red-handed, so I got dressed and went to his mother's wedding. He was already there. I was angry when I saw him. He saw me and started following me as I turned around and made my way out," she said angrily.
"I yelled at him calling him a liar and a manipulator. He tried to calm me down because people were staring at him but I lost him and said he broke his promise to me and that his word meant it was me.
"He got defensive saying he really wanted to be there for his mom and at the same time he couldn't handle my anger at him and give him silence so he hid it from me. I told him to get off my face and go home."
The couple argued, as she wrote: "He came back looking annoying saying I made a scene at his mom's wedding and insulted him when I started yelling at him.
"I refused to argue but his family came to me calling me dreaded and controlling, saying my husband was a 'saint' because he still tolerated his 'damned' behaviours.
She claims she blocked her sister-in-law, who said that "my husband has free will and should be able to decide where he's going without my consent, which made him get more details."
The post, which can be read here, has racked up 8,000 votes and comments since it was posted on Wednesday.
While the top comment, from Dgently123, got 24,000 upvotes on its own and said, "Wow. Your MIL sure sounds crazy. First, she decided… on her own, with absolutely no interference from you… how she wanted to divide her property."
"Although both of her heirs are fine with it, she did not take your opinions into consideration. Then, you might have been upset when you started yelling at your husband at her wedding . . . "
Others agreed that she was out of line, as Dibesha joked: "The good news, after the husband divorced OP, and the finances were settled, the mother would rewrite it and leave more for her son."
ConstantExample8927 wrote: "I loved how you accused him of manipulation."
"No, I think when your 'husband stops you' from going to your father's wedding, you are totally justified in lying to them," All_the_Bees said.
Ill_Royal9688 added: "Soon it will be Ex MIL if her ex-husband is a relative that makes any sense."
NEWSWEEK u/Grace-Full4235 has been reached for comment. We were unable to verify the details of the case.
Has a wedding occurred between your relationship with a member of your family? Tell us at [email protected] We can seek advice from experts, and your story can be featured on Newsweek.